Shwetha Bhatia
Founder , Mind Your Fitness
Registered Dietitian with the Indian Dietetic Association
A topper at Graduate and Postgraduate level from SNDT University, Mumbai, Shwetha's academic excellence is superseded by her successful and established clinical practice of more than a decade.
Areas of expertise
• Cardiovascular Disorders • Neurological Disorders • Cancer Management • Diabetes/PCOD/Thyroid and other Endocrine Disorders • Gastrointestinal Disorders (including liver/pancreatic diseases) • Kidney Disorders • Pediatric Nutrition • Prenatal and Antenatal Care (Pregnancy) • Sports Nutrition for professional as well as recreational sports • Fat Loss
Shwetha is a renowned competitive fitness athlete, holds Bronze Medals at the State & National Bodybuilding Championships 2015. She is a Board Member of the Indian Bodybuilders Federation (IBBF), recognized by the Ministry of Youth Affairs and Sports. She also shares her knowledge through great articles in India's leading magazine KRUNCH TODAY. She has been the Brand Ambassador for the fitness app, Mobiefit.
Achievements and Awards: - "Rising Nutripreneur Award-Fitness & Wellness Category 2019", awarded by THE INDIAN DIETETIC ASSOCIATION, MUMBAI CHAPTER. - "Exceptional Women of Excellence Award 2017", awarded by the Women Economic Forum, the conference arm of the ALL LADIES LEAGUE. - "Best Fitness Consultant-Western India 2017", awarded at THE INTERNATIONAL HEALTHCARE SUMMIT AND AWARDS 2017, New Delhi.
Janvi Dhanak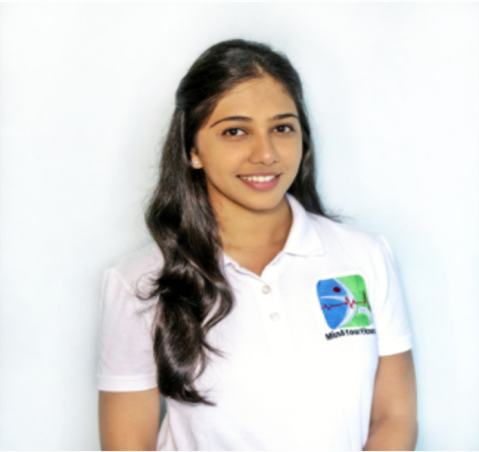 Sports & Clinical Nutritionist
M.SC. Sports Nutrition, B.SC. Dietetics, CDE
---
Janvi is a qualified sports & clinical nutritionist and a Certified diabetes educator. She's a topper at the postgraduate level & has received dr. K. U. Naram award by afst(i), mumbai chapter. AREAS OF EXPERTISE
Weight Management (fat loss/muscle gain)
Diabetes
Cardiac Disorders
Gi Disorders
Endurance & Power sports
Team sports
Siddhant Sule
Sports Nutritionist
M.Sc. (Sports Nutrition)
---
Siddhant is a qualified sports nutritionist with a Master's degree in Sports Nutrition and well versed in handling sports nutrition cases. Area of Expertise
Fat Loss/Muscle Gain
Nutritional Management of Endurance/Power-based sports
Alifia Mala
Sports Nutritionist
M.SC. With a specialization in sports nutrition
---
Alifia is a qualified sports nutritionist with a master's degree in Sports nutrition and has handful experience in helping client reach Their goals. AREAS OF EXPERTISE
Performance Nutrition
Weight Management
Sneha Chowdhury
Clinical Nutritionist
B.SC. In Clinical Nutrition and Dietetics, CDE
---
Sneha is a qualified clinical nutritionist and a certified diabetes educator. She also holds a diploma in physical fitness and weight management. AREAS OF EXPERTISE
Weight loss
Diabetes
Cardiac disorders
GI disorders
Physiotherapists and Exercise Consultants

---
Dr. Janhvi Vayada
Clinical Sports Physiotherapist
BPT, MPT (Sports), M.I.A.P
---
A clinical sports physiotherapist with an experience of 9 years, Janhvi is a silver medalist and has completed her Masters in Sports Physical Therapy. She specializes in clinical and on-field patient assessment / diagnosis of sports injuries. She is also specialized in goal-oriented rehabilitation exercise prescriptions / guidance for maximal patient care & recovery. Areas Of Expertise
Biomechanical/postural assessment
Gait analysis
Musculoskeletal and sports injuries diagnosis & treatment
Podiatry: in-depth foot and ankle joint analysis & biomechanically corrective measures to be taken via the use of Foot Orthotics
Manual therapy techniques: Joint mobilization, sports taping, soft tissue mobilization techniques
Injury prevention techniques & correcting improper biomechanics
Ergonomic assessment- Workspace analysis
Dr. Anuja Mhatre Jathar
Physiotherapist and Sports Nutritionist
BPT , PGDHHM
---
Anuja has an experience of 6 years in rehabilitating cardiac patients (Ex co-ordinator of Asian Heart Hospital of Physiotherapy and Cardiac Rehabilitation Department). She also holds a Postgraduate Diploma in Hospital and Healthcare Management (PGDHHM, Symbiosis, Pune) and a Certified Sports Nutritionist from American College of Sports Medicine. Areas Of Expertise
Cardiac rehabilitation
Marathon training post-cardiac rehabilitation
Manual therapy
Rigid taping
Mulligan mobilization for pain management (manual therapy)
Pregnancy and post-pregnancy training
Dr. Pranjali Palkar
Consulting Sports Physiotherapist
BPT, MPT (Sports), M.I.A.P
---
Pranjali is a sports physiotherapist with 7 years of experience handling major elements of physiotherapy. She is a lecturer at K11 School Of Fitness Sciences. She is also a foot/ankle specialist. She has worked with cricket teams in Mumbai. Areas Of Expertise
Biomechanical/postural assessment
Gait analysis
Musculoskeletal and sports injuries diagnosis & treatment
Podiatry: in-depth foot and ankle joint analysis & biomechanically corrective measures to be taken via the use of Foot Orthotics
Heel pain management
Dry needling
Injury prevention techniques & correcting improper biomechanics
Ergonomic assessment- Workspace analysis
Dr. Jagruti Sahasrabuddhe
Head of Department, Physiotherapy at KLS MEMORIAL HOSPITAL
BPT, M.I.A.P
---
Head of Department, Physiotherapy at KLS MEMORIAL HOSPITAL (Vile Parle, Mumbai), UNIQUE HOSPITAL (Andheri, Mumbai), MANGAL HOSPITAL (Santacruz, Mumbai). She is also attached with BSES Hospital, MG Global Hospital, Meditech Hospital, Mumbai.
CERTIFICATIONS
Childbirth Educator
Mobilisation Techniques
Taping Techniques
McKenzie Techniques
Currently Dr. Jagruti is actively managing Covid and post Covid Rehabilitation.
.
Tariq Mohammad
Strength and Conditioning Expert
Director at Tripod Gym - Panaji, Goa Director at TMF - Tariq Mohammad Fitness
---
CERTIFICATIONS
Certified Personal Trainer
Certified Course in Special Population Training
Certified Course in Contest Prep (Bodybuilding)
A certified trainer from the esteemed K11 School Of Fitness Sciences
and with over 10 years of
experience in Personal Training
, Tariq has trained clients from all walks of life catering to improvements in general fitness and athletic performance.
Dr. Mansi Thukral Ashta
Founder of Creationship
BPT
---
Dr. Mansi believes we are here to create greater and all it takes is 'choice'. She is a senior teacher for the "personal trainer for special populations" course at k11 school of fitness sciences since year 2009. She has also authored the textbook for the course. Presently, dr. mansi has launched a program for emotional well-being; it's called 'life skills'. she has been working towards physical & mental well-being since year 2008. AREAS OF EXPERTISE
Physiotherapist & holistic health practitioner
Pain management specialist
Prenatal & postpartum exercise instructor
Childbirth educator
Emotional well-being facilitator
Yash Chhatbar
Sports Physiotherapist
BPT, MPT (SPORTS), CPT (ISSA, USA), MIAP
---
1. Lead sports physiotherapist at kokilaben dhirubhai Ambani hospital 2. Head physiotherapist - jaipur pink panthers at vivo pro Kabbadi season 8 FORMERLY
Team physiotherapist - england legends at road safety World series 2021
Head physiotherapist at glenmark aquatic foundation
Lead sports physiotherapist at mumbai cricket association
Physiotherapist at jaslok & bombay hospital
Yash specialises in sports and musculoskeletal injuries. Over a period of 11 years he has successfully managed Elite athletes, sports enthusiasts and desk job workers With his expertise. Prescribing focused exercises Following a comprehensive clinical assessment and Treating the source of problem in the most effective and Innovative manner is his niche. "Analysing neuro-musculo-skeletal issues gives us an Insight into our current capacities and shortcomings. This Provides an opportunity to prevent a lot of health issues Ahead in time thereby reinstating: prevention is the new Cure".
Sujatha Kumar
Clinical Psychologist
M.A. (Clinical Psychology), M. Phil (Applied Psychology)
---
Sujatha has 10 years of experience in clinical practice and school counseling. Areas Of Expertise
Counselling for children and young adults
Therapy for adults
Parent and family therapy/counselling
Family and relationship counseling
Workshops for life skills
Parenting skill workshops
Narendra Kinger
Consulting Psychologist and Psychotherapist
M.A. (Clinical Psychology)
---
Narendra has 30 years of experience as a consulting psychologist and psychotherapist. He is a consultant clinical psychologist at Sir H N Reliance Foundation Hospital & Research Centre, Mumbai. He is also associated with Mithibai College and St. Andrews College, Mumbai as a lecturer in clinical psychology. He has been a columnist and impaneled on responsible roles for various corporate houses in Mumbai. Areas Of Expertise
Child and adolescent psychology
Stress Management
Family and relationship counseling
De-addiction
Sleep disorders
Personality evaluation
Post-traumatic stress disorders
Varadayini Gorhe
Sports Psychologist
M.Sc (Sports & Exercise Psychology)
---
Varadayini has completed her Masters from Loughborough University, U.K in Sport and Exercise Psychology with 7 years of experience in the field. She has also completed her Advance Therapy courses in Rational Emotive Behaviour Therapy (R.E.B.T) from Swati Khanolkar who is a certified trainer from Albert Ellis Institute, New York. She specializes in training athletes psychologically to achieve peak/ optimal performance in their sport through techniques and methods used under sport and performance psychology. She has worked with individuals and teams competing at the National and International level. She also addresses mental health issues in athletes who may need further clinical interventions.
Dr. Chintan Doshi
Consulting Sports Medicine Specialist and Orthopedic Surgeon
MBBS, DNB Ortho, D Ortho, FCPO
---
CERTIFICATIONS
Fellowship in Pediatric and Adolescent Sports Medicine (Singapore, USA)
Fellowship in Pediatric and Adolescent Orthopedics (MUHS, Singapore, USA)
Dr. Chintan Doshi is a
sports medicine specialist and Orthopedic surgeon with more than 10 yrs of experience in Orthopedic surgeries.
He is internationally trained at multiple institutes from around the globe and has vast experience in treating and managing sports injuries and orthopedic conditions. He is attached to many premier institutes in Mumbai and is available for Online and Onsite consultations.
Dr. Pranami Pratik Mehta
Consulting Pediatrician and Neonatologist
MBBS, DCH Owner, "Dr. Mehta Child Clinic" (Wakad, Pune) Partner, "Spandan Clinic" (Hinjewadi, Pune)
---
CERTIFICATIONS
Certified Child Development Psychology
Dr. Parnami Mehta is a
Maharashtra Medical Council registered Pediatrician
. She received her M.B.B.S degree from Government Medical College, Surat and completed her pediatric residency from College of Physicians and Surgeons, Mumbai. After practicing for several years at different hospitals, Dr. Mehta moved into the private practice of pediatrics and started her clinic in Pune under the name of Dr. MEHTA CHILD CLINIC in 2013. She believes in providing quality care to her patients through education and a preventive approach. She conducts free medical camps for underprivileged children.
Dr Varun Kunte
Dental Surgeon
BDS, MDS, DTR
---
The Founder of ARTHROSE is a qualified Dental Surgeon (Oral Medicine and Radiology) and currently the only certified DTR specialist (Disclusion Time Reduction) in Mumbai. ARTHROSE is a chain of clinics dealing with postural correction, headaches, migraines, Facial Pain and TMJ dysfunction in Mumbai, Pune, Nashik. He also practices Neuromuscular Dentistry. He uses several advanced biometric instruments such as T-Scan, BioElectromyography(BioEMG), Joint Vibration Analysis (JVA) and QuadraTENS for his treatments. Areas Of Expertise
Management of TMJ disorders
Treatment of Migraines, Headaches, Facial Pain
Management of Obstructive Sleep Apnea
Treatment of Bite (occlusion) related issues
Fabrication of Sports Guards for athletes
Dr. Prathamesh Y Asawale
Anaesthesiologist, currently engaged as covid ICU in-charge
M.B.B.S, Dip. Anesthesiology
---
Anaesthesiologist, currently engaged as covid ICU in-charge (Woman's hospital and dist. hospital, Ratnagiri) EDUCATIONAL QUALIFICATION
M.B.B.S (Grant medical college and jj group of Hospitals, mumbai).
Dip. Anesthesiology (Indira gandhi medical College, nagpur).
AREAS OF EXPERIENCE
>
Qualified anaesthesiologist for general Surgery.
Neurosurgery, Obstetrics and Gynaecological Surgeries.
Orthopaedic surgery, Ent and Ophthalmology Surgery.
Intensivist for surgical ICU, Covid and sari-ICU
Skilled in all Procedures and Ventilator Management for ICU Patients.
Dr. Jui Shinde
Sound Healing Therapist
B.D.S, CCCE, CLE (USA),
---
Lactation counsellor, Child Birth Educator and Sound Healing therapist Consultant at Nanavati Hospital, Eva Nursing Home, Wagh Nursing home, Mumbai Founder at Naadbrahma Founder at Birth Rejoice CERTIFICATIONS
Internationally certified lactation counselor (CLE)
Internationally certified Child Birth Educator CCCE
Internationally certified Sound Healing therapist
Bachelor of Dentistry
Dr. Jui Shinde is an internationally certified lactation counsellor and child birth educator who has guided more than 4000 mothers in their breastfeeding journey. She takes prenatal and postnatal lactation counselling sessions for the millennial "moms to be" and addresses their breastfeeding needs. She helps to resolve breastfeeding difficulties and prepare moms for a blissful breastfeeding journey.
Ms. Aahna Mehrotra
Consulting Sports Lawyer
Master in Entertainment and Sports Law from UCLA, School of Law.
---
Ms. Aahna Mehrotra is the Founder/Principal Lawyer at AM Sports Law and Management Co. and Partner at TMT Law Practice. She advises clients on matters relating to
League formulation
Transfer of players
Disputes pertaining to selection of athletes
Arbitration
Intellectual property rights
Media and broadcasting rights
Sponsorship and merchandising agreements
Fantasy sports and contract law
Aahna is also the
vice-chairperson of the National Anti-Doping Disciplinary (NADA) panel and a member of the Arbitrational Tribunal constituted by a state football federation. 
She has been instrumental in setting up some of the major franchise-based leagues in India and serves as a visiting faculty at several institutions of repute. Amongst her most notable publications is
co-authoring the second edition of the book 'Law and Sports in India' published by LexisNexis.
Dr. Ujwala Patil
Consulting Obstetrician & Gynaecologist
MBBS, DGO
---
Dr. Ujwala Patil Founder Director of Polaris HealthCare, Pune.
Promoter Director at Vision Next, Eye Care Hospital, Pune. CERTIFICATIONS
LCCE (LAMAZE)
Certification in Endoscopy
Certification in Cosmetology
FOGSI Training in Infertility
A university topper in DGO and providing specialist advice in gynaecology and obstetrics for the past 18 years,
Dr. Patil is a LAMAZE certified child birth educator with passion, commitment and dedication for natural birthing and safe motherhood. She has handled many high risk obstetric cases and conducted more than 5000 deliveries.
Dr. Subhal Dixit
Consulting Physician, Critical Care Specialist
M.D. (MED), IDCCM, FICCM
---
Dr. Subhal Dixit is the director (Intensive care) at sanjeevan & mjm hospitals, Pune. He is also a visiting consultant (Internal medicine & critical care) at various hospitals in pune: Prayag, Joshi/Ratna, Poona hospital & Sahyadri speciality hospital. He has presented papers with various publications to his name.
Dr. Mohsin B. Ansari
Consultant Physician & Diabetologist
MBBS,DNB Medicine, MNAMS
---
Dr. Mohsin is a practicing physician in the Field of Internal Medicine and Diabetology since 2013 . He also has a specialization in 2D Echocardiography and Stress test. He is a National Faculty at the Annual Conference of Indian Academy of Echocardiography. He has been trained under the stalwarts of Diabetology and Cardiology during his training. He is currently attached to Gurunanak Hospital, Bandra, Mumbai.
Dr. Kapil Borawake
Consulting Diabetologist
M.B.B.S., D.N.B(General Medicine), IDCCM, FICCM
---
Dr. Kapil comes with a vast experience of over a decade in the field of medicine. He has hands-on experience in managing complicated metabolic disorders. He is known for his expertise related to metabolic disorders like diabetes, thyroid dysfunction and cardiac conditions. His vision is to cure metabolic issues in the Indian population with minimal use of medication and focussing mostly on integrated lifestyle changes.
Dr. Abhishek Bhargav
Consulting Physician, Critical Care Specialist, Cardiologist & Diabetologist
DNB (MED), MNAMS, FRSH (UK), FEAC, P.G. DIABETOLOGY (US)
---
Dr. Abhishek bhargav is a graduate from grant medical college & sir j.j group of hospitals and has subsequently done his dnb medicine. He was formally attached with bombay hospital & asian heart hospital. He is currently practicing as a physician, cardiologist & diabetologist and is attached with hinduja healthcare, seven hills hospital, bses, criticare, aryoganidhi & sujay hospital, mumbai. He was recently awarded the prestigious feac fellowship. He is also the recipient of the prestigious rashtriya gaurav award for medical excellence in 2012. He has presented papers at various national & international conferences with various publications to his name.