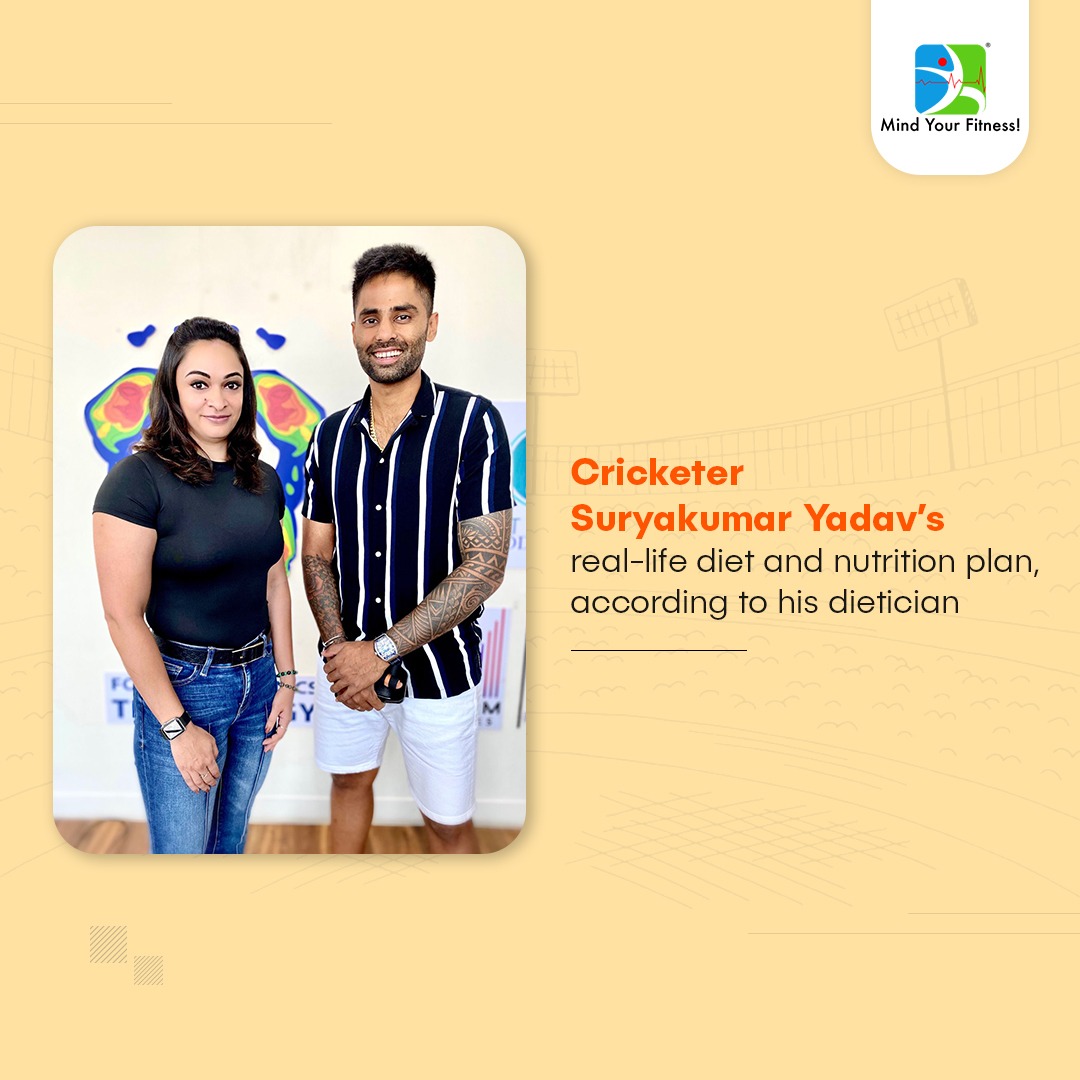 Suryakumar Yadav's secret recipe to success: Revealed!
History stands testimony to the fact that all accomplished personalities are an embodiment of stupendous grit, discipline and determination. Athletes are no exception to this rule. However, more than just determined spirit what differentiates a good athlete from the greats is the pursuit of excellence in every aspect of their life. This includes everything from their dietary choices, physical training, practice sessions, sleep, to their mental and emotional health.
Skills practice, physical training and sports nutrition are the 3 weapons an athlete should have in his arsenal to consistently deliver at the highest levels.
What is Sports Nutrition?
Sports nutrition is the study and practice of providing nutrients to athletes so that they can perform at their best.
An athlete on a bespoke sports nutrition plan will improve performance, prevent injuries, and recover faster, optimizing the effects of training in the shortest possible time.
Inadequate sports nutrition results in reduced performance, fatigue, impaired immunity and increased risk of injury or illness.
Consuming the right type of food and fluids in adequate quantities at the right time is crucial for athletes. Athletes who train multiple times a day need to ensure that they recover well between sessions.
Apart from the diet, the use of nutritional supplements and ergogenic aids is crucial for enhancing performance. Athletes also need to ensure that their diets do not contain substances banned by WADA or their sporting body. Training without a back-up of nutrients can also impair immunity.
Athletes, bodybuilders and fitness enthusiasts have always been aware of the power of nutrition to enhance their performance but it is now becoming a mainstream part of our culture with more people than ever realizing that what they put in their mouth can have a huge impact on how they feel, both physically and mentally.
Sports Nutritionists work with athletes, teams and individual competitors to improve endurance, maximize performance, minimize injuries, improve recovery time between workouts or games and decrease risk of chronic illnesses associated with poor eating habits or lack of exercise.
The Rising Surya
Over the last couple of years International cricket has witnessed the astounding rise of Suryakumar Yadav. A determined athlete, Surya has razor sharp focus on his goals. Constant improvement is the mantra he swears by and leaves no stone unturned to accomplish his goals.
We have been working with him since the past one year, and since then we've achieved a few goals, chasing a few goals and set up new goals for the future.
Being an intelligent athlete, Surya understands the importance of professional assistance in planning his diet. On his journey with us, I have helped him realign his understanding of Sports Nutrition.
His diet primarily aims to achieve the following:
1. Boost performance both during training and matches.
2. Help him maintain body fat within the athletic zone (12-15%).
3. Help him remain cognitively alert / energetic.
4. Reduce the need to refuel constantly with lesser cravings.
5. Promote recovery.
The Secret Sauce: Surya's DIET
For all the budding athletes wanting to know Surya's secret diet, the devil is in the detail.
Although the basics of Sports Nutrition are same for all athletes, it differs drastically based on the individual needs of the athlete, demands of the sport and other genetic differences.
For a broader understanding, his diet consists of healthy fats, 1st class proteins from non vegetarian sources, dairy and fibrous carbohydrates from vegetables. Hydration guidelines ie., fluid and electrolytes are provided for the intra-match / intra-training period.
The diet consists of 3 primary meals:
Breakfast is usually eggs or a protein smoothie.
Lunch always consists of vegetables/salads, a non vegetarian protein source like chicken/fish, paneer and yoghurt.
Dinner is similar to lunch.
Activity specific, sports performance boosting supplements are added pre, during and post training. These include whey protein, vitamins, minerals, antioxidants, joint health supplements to name a few.
The basic plan is modified from time to time as per the match, training and travel schedules.
I plan the menu, suggest healthy alternatives and cuisines to avoid monotony.
Does the SKY CHEAT:
Surya has the mindset of an elite athlete and prioritises his performance over everything else. So cheat meals are a rarity.
He does not crave for junk or comfort foods since the time he has started following the diet. When it gets monotonous, allowance is made for healthier options. He has to travel constantly for his matches, which keeps us on our toes constantly, providing substitutes based on what's available at the venue.
In short, cheat meals are planned strategically: the amount and time of consumption. They consist of any food item / meal that he craves for, placed at intervals that do not hamper his performance.
The Forbidden List
As mentioned above, Surya is allowed cheat meals occasionally, the following foods are strictly prohibited.
– Any form of sugar and junk food are a strict no. Eating a lot of carbohydrates can cause weight gain in athletes over a period of time. This is a health risk and also results in poor performance. Moderating the carbohydrates helps in keeping the body fat within range while improving performance.
DIET AND EXERCISE: Two sides of a coin.
Surya has become leaner and there's a remarkable improvement in his energy levels both on the pitch and during training. We work with his strength and conditioning coach for a better understanding of his training and match performance. We've set certain performance markers and they are reviewed jointly from time to time.
Timely recovery is of essence as the schedules are hectic involving a lot of domestic and international travel back to back. Besides travel there could be multiple training sessions between matches. He has been able to keep up with all of that effortlessly. Although we have achieved most of the goals, it's still a "work in progress".
The Number Game:
Surya's dominance in International cricket was long due. Ever since making his first-class debut against Delhi in the 2010-11 season, Surya has topped the charts in numerous domestic tournaments and the IPL.
With his consistent performances for the Mumbai Indians and the Kolkata Knightriders, he was constantly in the reckoning for the national side.
In the 2022 IPL scored amassed 303 runs in 8 matches at an incredible average of 43.29. His heroics included 3 Fifties.
Surya made his International debut for India in 2021 and since then has played 13 ODIs and 34 T20Is.
As on date, he has the following accolades to his name:
Suryakumar Yadav's International Records:
Source: espncricinfo.com
Excerpts taken from the article published in GQ India authored by Shweta.
~Shweta Bhatia, Registered Dietitian (Indian Dietetic Association)